Vericose
with False Jasmine , The Mummy Cats , Bugwhore
Sat
Jul 16
10:00 pm
( Doors:

9:00 pm

)
The Nick
Ages 21 and Up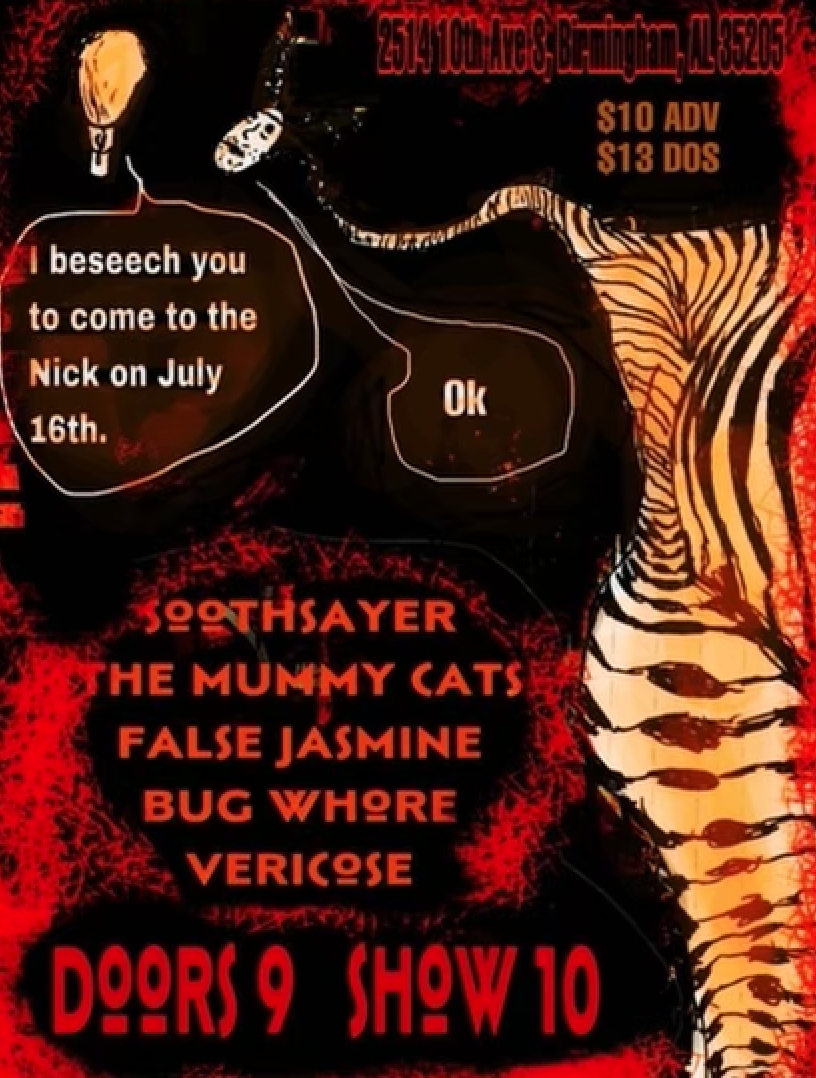 Additional Info
The Nick is a Private Club - Membership Card ($5 Per Year) & Valid ID - 21 + Up to Enter.
Artists
Vericose
Alternative
Alternative experimental jazz art rock from Tuscaloosa AL
False Jasmine
Rock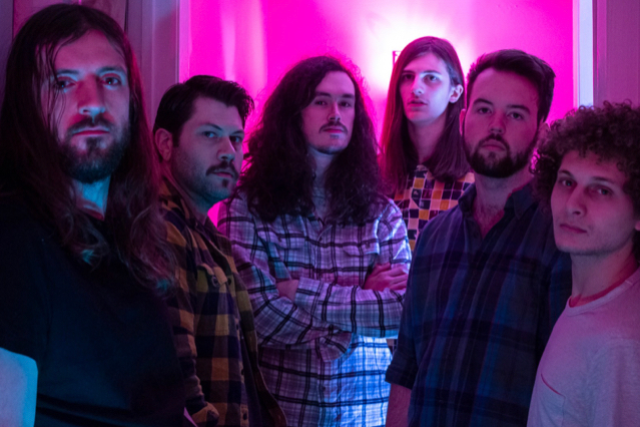 Experimental rock music from Birmingham AL
False Jasmine is Sam Strickland (drums) and Omar Barazanji (guitar), Cosmo Steinhauer (guitar), Ty Kennedy (guitar, vox), Adam Davila (bass, vox), Peyton Spencer (keys), and Eli Sims (percussion).
False Jasmine's debut album, Delusions of Grandeur is coming 2021. This album will feature Adrián Terrazas-González from The Mars Volta / T.R.A.M. in 5 songs. Stay tuned 🙂


False Jasmine started as an idea by Sam Strickland and Omar Barazanji 2 years ago to create music that pushes the bounds of rock music and composition. Some of our influences include Frank Zappa, Robert Fripp (King Crimson), Gong, John McLaughlin (Mahavishunu Orchestra), and many more 70s era progressive rock icons.
The lineup of the band is always changing to suit the sound and our compositions have ranged from alternative rock to surf rock, jazz, blues, r&b, punk, world music, Latin, and more.
The Mummy Cats
Rock
Rock & Roll from Birmingham AL

James Cox founded The Mummy Cats in 2018 after finding a dead and mummified cat in his friends basement in Nashville, TN. 
 Since the close encounter, all members of The Mummy Cats have been under a very powerful and enchanting spell. 
 It has been confirmed that the members have been summoned by The Almighty Mummy Cat to its tomb where they are currently excavating ancient artifacts that contain knowledge on how to create some of the most prolific rock and roll music known to humankind and beyond. 
 Once properly transcribed and recorded, The Mummy Cats will release their findings to the general public, upon which the entire global population will be taken under the spell of The Almighty Mummy Cat. 
 This is just the beginning...
Bugwhore
Rock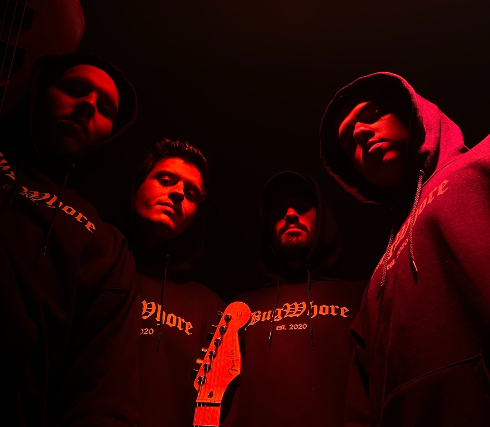 Bugwhore is a hardcore punk/grunge band from Birmingham, Alabama. Bugwhore's crunchy riffs, tyrannical percussion, and overall snarly attitude culminates in some of the finest headbangers this side of the Mississippi.
"Suddenly, like a phoenix reborn of its own ashes, Bugwhore was vaulted into this feeble world to spread fire and vengeance. Just when all seemed lost, the spirit of the magma and his four devoted soldiers coalesced into an ardent volcanic force whose sole purpose is to teach the world how to rage, fly, relax, and die" - translated from the scrolls of the Cicada Prince