Crypt 24
with Abusements , One Trip Little
Thu
Mar 23
9:00 pm
( Doors:

8:00 pm

)
The Nick
Ages 21 and Up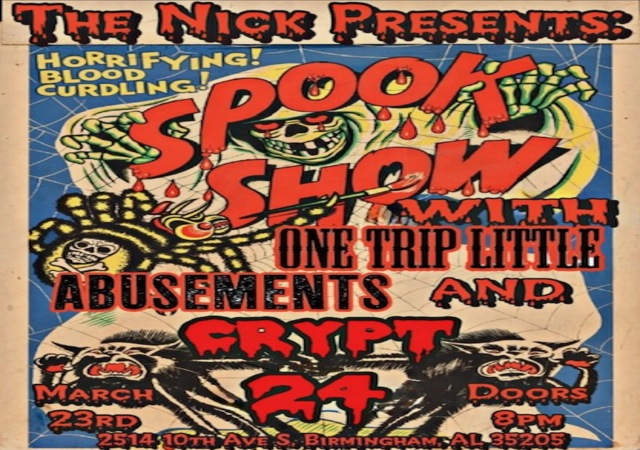 Additional Info
The Nick is a Private Club - Membership Card ($5 Per Year) & Valid ID - 21 + Up to Enter.
Artists
Crypt 24
Alternative
What happens when you take some Noth Georgis Hillbillies and add a case of Papst Blue Ribbon Beer, a bottle of cheap Bourbon, a box full of B-Monster Movies and 60's Biker Flicks, a stack of Sun Records 45s, Grand Daddy's old Sears electric guitar, a junky old Japanese Fuzz Pedal, marathon episodes of the Munsters and the Addams Family and a pamphlet from the Church Of Satan?
You get a band like Crypt 24 with their brand of Voodoo Psychobilly and Sci-Fi Garage Punk Madness.
Abusements
Rock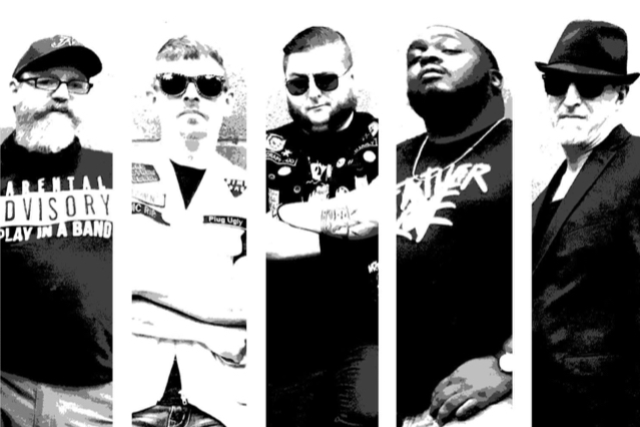 Punk Rock from Montgomery AL
One Trip Little
Alternative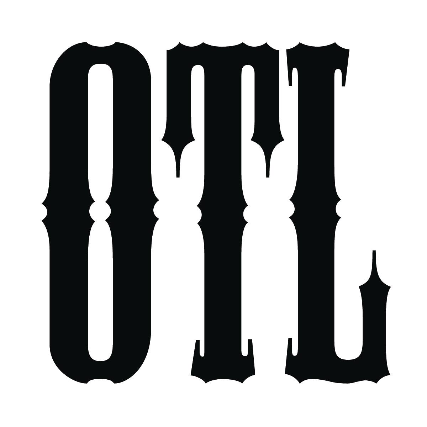 Americana, Ameripolitan, rebel-folk, roots, rockabilly, outlaw country... it's all "the old music that's new."
Two parts outlaw and one part gospel, OTL can get barrooms singing hymns and church-folk singing shanties.
"Touring with Justin, I really liked his sets. I (of course) heard as many influences as in my own. Blues, rock'n roll, rockabilly, country… I dug the simplicity of this songs and Justin puts on a nice solid, clean (in a good way) show… it was an honor to tour with the man!"
~Dex Romweber
(Dex Romweber Duo, Flat Duo Jets)
"One Trip Little is one part Cash, one part Elvis, & add a drop of Nick Cave's deep voice, & you get a mixture of rockabilly, gospel, and outlaw folk that is sure to please fans across multiple genres. 'Cheap Bibles' is a helluva romp – Staggering out of Tampa, creeping up the East Coast, and ending up doing time somewhere in the old Midwest"
~ Valient Himself
(Valient Thorr)
One Trip Little plies vintage-hued, gospel-dosed country-roots with upbeat Western swing appeal, his finely pitched vocals reaching twangy baritone lows in the 10 tracks on just-released debut full-length 'Cheap Bibles.'"
~Leilani Polk
"One Trip Little Goes to Cuba"
Creative Loafing Tampa Bay
"Modern Folk music. Generalizing it, you may be picturing hippies around a campfire singling 'Kumbaya' or Bob Dylan mumbling something into a microphone with an acoustic guitar in hand. Maybe even Woody Guthrie singing a hymn of activism. You are right to some degree, but you're cutting yourself short if you've written it off with just those thoughts with no further want to dive into such an endless genre of music. Folk has been around forever and has been a voice for the ever-changing times and feelings.
One Trip Little's 'Cheap Bibles' album speaks for today. It's a dark album, not for the hippies around campfires, but for the lost soul in an empty dive bar. The songs hit deep and take you places. Some places many of you may have been. It's a solid listen. A solid recording."
~ Vic Victor
(The Koffin Kats)
"A One Trip Little show usually starts with a hymn, offers some heartbreak in the middle and ends with a story… Just like life."
~ Tyler Killete
The Burger Online