Thelma and the Sleaze
with VOLK
Sun
Dec 17
9:00 pm
( Doors:

8:00 pm

)
The Nick
Ages 21 and Up
Additional Info
The Nick is a Private Club - Membership Card ($5 Per Year) & Valid ID - 21 + Up to Enter.
Artists
Thelma and the Sleaze
Rock
Thelma and the Sleaze is an independent all-female, queer southern rock band from Nashville, Tennessee.
The group is the brain-child of lead vocalist and guitar player Lauren "LG" Gilbert.
In 2005, Gilbert – who was born in Kankakee, IL but grew up in Kentucky and Iowa came to Nashville at the age of 21 to study audio engineering. In 2006, Gilbert joined the all-female punk rock band the Trampskirts as a guitar player. Gilbert was in Trampskirts until 2009 when the band dissolved.
In 2010, Gilbert and fellow Trampskirts band members including drummer Jacki Macri and bass player Emily "Baby Angel" Zimmer founded Thelma and the Sleaze. The band's first show was on November 8, 2010 and was themed after the film Thelma and Louise. One member of Trampskirts departed after their first show and then in 2011, drummer Jacki Macri left the band. The band added Indianapolis native Chase "Tender" Noelle on drums and Beth Finney on lead guitar. The lineup of Gilbert, Zimmer, Noelle and Finney debuted on February 7, 2012, opening for Jack White's Black Belles.
Lauren "LG" Gilbert – vocals, guitar
Amaia "Coochie Coochie" Aguirre – organ/keyboards
Shaylee "Snowflake" Walsh – drums
VOLK
Rock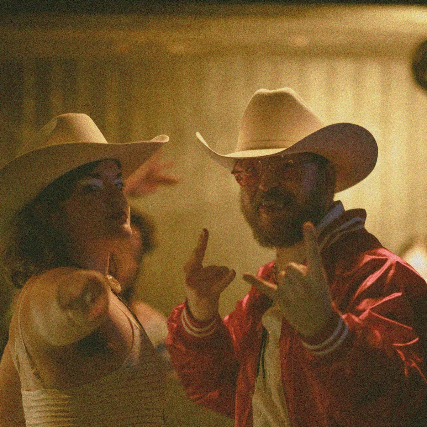 VOLK is Nashville duo Eleot Reich (drums, vocals) and Christopher Lowe (guitar, vocals).

Their first live album "Towards the Setting Sun (Live Across North America) is out now! Amassed while on the road with Electric Six and Supersuckers, the album features ten tracks ripped straight from the soundboard of some legendary venues. Raw, real, and full of fire, you can now enjoy the world's greatest hype band LIVE in all their glory – from the comfort of your home.
Since meeting in Berlin in 2013 at a brothel-turned-bar called Madame Claude's, VOLK's work ethic can't be questioned. Spending more than half of the year on the road since their inception and recording regularly has paid off as they've shared bills with The Dead South, Charley Crockett, Electric Six, Supersuckers, Diarrhea Planet and more. This year be sure to catch them at Mile of Music and Muddy Roots!
In their travels, VOLK connected with producer John Pedigo (Old 97's, Joshua Ray Walker). They recorded "Stand the Test" at his Modern Electric Sound Recorders studio in Dallas, and worked with him on the remixes and remasters that make up the "Stand the Test" EP. They're currently in the process of completing their next full length album with Pedigo entitled "On the Other Hand, You Have Five Fingers."
"Recording with John has been great," says Reich. "We start from this emotional and raw place, true to our live sound, then build from there. For 'Stand the Test,' the song kept growing in meaning from when I wrote it, to going through Covid, then while recording, and now my partner just left me, and turned out to be a break up song for myself that I wrote two years earlier."
"These days I'm over the cool rocking virtuoso guitar thing," says Lowe. "I just want to bring this Tom Morello, nebulous sound, where maybe you can't even tell it's a guitar. For 'I Fed Animals,' it's like the id of a guitar with my Strat's whammy bar and using octave pedals, where I'm feeling what weird ways my foot can move, weird places I can hold the pick on the strings to make the most jarring noises possible."
VOLK is known for making the music they want with little regard for genre, historically landing in cow punk territory with heavy guitars, rock n' roll drums with a flair for country and western. Their debut album Cashville moves from outlaw country and rockabilly swing, to dancey garage rock.
Their next album with Pedigo is nearly complete and will include Dick Valentine, Chris Tait & Matt Van (all of Electric Six), Joshua Flemming of the Vandoliers and Ray Wylie Hubbard. They're constantly touring, so keep an eye out for them in a city near you. One thing's for sure, VOLK wants to bring their brand of badass swagger to your town and they're going to do it on their terms while showing us all how to have a good time.