The Pollies
with Rob Aldridge And The Proponents, Will Stewart
Sat
Dec 21
10:00 pm
( Doors:

9:00 pm

)
The Nick
Ages 21 and Up
Additional Info
The Nick is a Private Club - Membership Card ($5 Per Year) & Valid ID 21 + Up to Enter
Artists
The Pollies
Rock
Rock from Muscle Shoals, AL / Nashville, TN
veryone talks about 'Muscle Shoals soul,' but no one ever talks about 'Muscle Shoals rock.' The Pollies might change that." - The Bitter Southerner
Jay Burgess was raised in, on, and by the music of Muscle Shoals - He's been a "young pup" to many of the Shoals music scene stalwarts for practically his entire adult life, going back to his days as a young guitar slinger and his early songwriting efforts (encouraged by Jason Isbell), all the way through to his creation of the Pollies, the band he's used as a prism to reflect some of the weirder, prettier strains of Southern rock music. While the quality and professionalism of his native Shoals have always informed their music, the Pollies don't simply ape the R&B-influenced rock for which their hometown scene is famous. Many peg their music to decidedly non-Southern influences like Wilco or Neil Young, but the true spirit of the Pollies' music is reflective of a long tradition that bears no resemblance to Molly Hatchett or the like. The sounds of Southern bands who don't fit within the genre "Southern rock," foremost among them the legendary Big Star from up the highway in Memphis, echo throughout the Pollies slightly weird, sometimes noisy, always pretty rock songs. There is a lot more connecting Memphis and Muscle Shoals than the fabled Highway 72, and with "Transmissions," the Pollies continue to show that rock music is Southern music and that Southern rock, whether flowing from Memphis, Athens, Chapel Hill or Muscle Shoals, is anything but a cliché of hairy 70s bands singing about whiskey with rebel flags on the kick drum.
The Pollies are a band - a true "band" in the Shoals tradition, whether rocking their own music or backing acclaimed artists. Their history of collaborations includes current tours backing Dylan LeBlanc and Nicole Atkins, records with Browan Lollar of St. Paul & the Broken Bones and the late Chris Porter, and backing gigs with John Paul White. Years of well-received touring behind LeBlanc have helped cement the present lineup and their lovely yet gritty sound, like a Southern Crazy Horse veering between delicate beauty and a not-quite-chaotic freight train roar. Jay's recent marriage spawned a batch of songs with a clear-eyed view of love and how we express it, the core of "Transmissions." This is a true "album" with one foot in the deep traditions of Shoals music and the other firmly planted in the strange cosmos of independent Southern rock - a collection of compelling, crazy, lovely, noisy songs about love and life. Turn it up, and come along for the ride!
"The Pollies succeed in bringing their own Southern sensibility to a sound that is grandiose and enchanting in a way that bleeds originality. Their sound is not just catchy, but it also lingers with you in the way any great band should." - Glide Magazine
"Everyone talks about 'Muscle Shoals soul,' but no one ever talks about 'Muscle Shoals rock.' The Pollies might change that." - The Bitter Southerner
"The Pollies have never so fully and confidently embraced the magic mix of garage pop and soul as heard on Big Star, or the radical free-range departures into noise à la Wilco." (Routes&Branches)
"Not Here" is the new full-length LP from The Pollies, a band that has been defying genres and leaping over boundaries since
their first release in 2012.
"When you write a song, you have a million different things you can do with that song," lead
singer and songwriter Jay Burgess says. "On our records, we always try to shake up the landscape.
On this one, we incorporated a lot of elements that we normally wouldn't think about
using. It changed the atmosphere of the music and pushed it in a different direction."
It's their first release for Florence, AL's Single Lock Records, and it shows the band shedding their alt-country skin in
favor of experimental noise and unadulterated risk.

"Not Here" is how I felt when I wrote the majority of the songs for this record," lead singer and songwriter Jay Burgess says. "I was almost living
parallel to myself. I'm watching myself react to what some people probably view as "normal life occurrences", but for
me, someone who's never been through these "normal life occurrences", it was very difficult."

Burgess is the songwriter behind The Pollies, and on "Not Here", he hits on all the familiar topics— love, loss, regret and
triumph— with an edge and ferocity that shows up on tracks like "Lost" and "Jackson".

Simply put, these are compelling stories—and Burgess has stepped into his own as a gifted storyteller.

"Love lost is what drives the record lyrically," Burgess says. "Some of these songs started as musical ideas—where I'd record
something on my phone and then go back 3-4 times and make sense of the words—and other songs were just there without a lot of work."

"Lost", a fan favorite, started as one phrase and a host of different musical ideas.

"It was a song that I had sitting around with unfinished and unrealized lyrics," Burgess says. "I'd do multiple recordings of it with different
lyrics. One phrase I kept coming back to was "I wish I was lost". For weeks, that one line stayed on my notepad. Soon after
that, a friend of mine found out his marriage was falling apart. I was someone for him to talk to, and after one of our conversations
one night, the words for "Lost" just fell into place."

Another standout track, "Jackson", came together in a much quicker fashion—with a far different focus.

"I've always been into revolutions—more specifically thinking about what things would be like if they hadn't happened," Burgess says.
"Obviously, a major movement in this country's history was the Civil Rights movement. I think about how long that effort
took and how great the risk was and it's amazing to me. I thought I had heard all of the stories that went along
with the movement until I heard the story of Jimmie Lee Jackson."

"At the time, there was no movie explaining him and his involvement with the Selma story. He's pretty much the
reason Dr. King came to Selma, and I found his story inspiring in many different ways. I had to write something
about him, and frankly, I could've probably done an entire record on him."

Throughout the record, the subject matter changes, but the themes remain: love, loss, regret and
triumph.
"The record isn't just about losing love," Burgess says. "It's about surviving the aftermath of that."
It's clear that Burgess is the kind of songwriter that throws a lot of curveballs. Accompanied by a deft and accomplished
band, "Not Here" is the kind of statement that signals the arrival of a great American band.
Rob Aldridge And The Proponents
Rock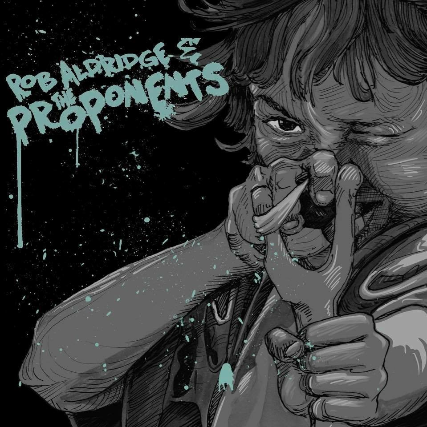 Rock from Muscle Shoals AL

Rob Aldridge is an up and coming singer songwriter from Muscle Shoals, AL. He learned to play guitar and write music at an early age and has built a diverse catalog of his own passionate southern songs that showcase his storytelling abilities over the years. Rob has shared the stage and written with some of the shoals legendary musicians.

Rob has made a living playing original and cover sets across the Southeast and Midwest. His smokey, soulful, southern voice and lyrics win over anyone who loves a good story and his musical delivery and personality are charming and addictive.
Will Stewart
Rock
Rock from Birmingham AL

In March 2016, Will Stewart headed back home to Alabama.

He'd been away for years, living in Nashville while earning his stripes as a songwriter, frontman, and lead guitarist. His fans reached as far away as London, where The Guardian — one of the U.K.'s most widely-reached papers — hailed his work.

Still, something kept drawing him down South. He'd grown up there, surrounded by the twang of classic country music and the stomp of rootsy rock & roll. Alabama was a complicated place, its history filled with dark characters and cultural clashes, but it was oddly compelling, too. It was home. Unable to resist the pull, Stewart returned to Birmingham. There, after a decade away, he rediscovered his muse: the Modern South, whose characters, complexities, open spaces, and strange beauty are all channeled into Stewart's full-length solo debut, County Seat.

Released in 2017, County Seat is a guitar-fueled Americana record, caught somewhere between the worlds of country and electrified rock. The songs are roomy and lush, the result of an inspired — led by Stewart, who handles singing and guitar-playing duties — whose members recorded all nine tracks in two short days. There are swirls of swooning pedal steel, layers of vocal harmony, and the pastoral punch of a songwriter looking to turn the landscape of his home state into music. Close your eyes while playing songs like "Brush Arbor," whose title references Dennis Covington's Salvation on Sand Mountain, and you'll hear Stewart's Alabama home.

County Seat is also a record about time. On the album's title track, Stewart sings about a lonely man in his twilight years, hoping to find some sort of transcendence from an otherwise mundane, day-to-day life. During the nostalgic "Sipsey," Stewart longs for the wonder and innocence of young adulthood. And with "Heaven Knows Why," he takes a look at his own vices, realizing the hour has come to leave some of those habits behind. Like Stewart's own move back to Birmingham, County Seat finds its narrator in constant motion, hoping to weather the mysteries and murkiness of the 21st century South by holding on to a shred of hope.

Co-produced with Les Nuby (who also engineered and mixed the album) and recorded in a series of live takes, County Seat nods to a number of songwriters who sing about the beauty of their homeland without glossing over its imperfections. There are electrified moments influenced by Neil Young, guitar arpeggios suited for R.E.M., turns-of-phrase worthy of Bob Dylan, and the modern-day folksy charm of Hiss Golden Messenger. On an album that evokes some heavy starpower, though, Will Stewart shines the brightest. This is his first full-length release as a solo artist: a rallying cry from a Son of the South who, having returned home after a long trip, looks at his birthplace with renewed eyes.